The Canceled Creature of Albany: What does Andrew Cuomo's Political Struggle Really Say?
Atlanta – With ambitions for the White House leveled, Andrew Cuomo is now loudly considering another run at the NY State Governorship. Throughout the past month, he's popped up at various functions, houses of worship, political points of interest, and leveraged his 18-million dollar war chest to launch a colossal ad campaign in his defense of himself. When asked if he intends to run again, the preferred response seems to be, "I have many options in life, and I am open to all of them."
In 2010, Andrew Cuomo took the head chair at Albany's table. His ascension came after he contributed to the investigation that resulted in the resignation of former NY Governor Eliot Spitzer. Spitzer's successor, David Paterson, was set on the path to re-election. That was, until an investigation led by NY's Attorney General, Andrew Cuomo, exposed a nest of scandal that led to Paterson's early exit. With Paterson out of the way, Cuomo had an easy ride to the New York State Executive Mansion.
Andrew Cuomo's Political Struggle
Then, in 2021, the knives at the Attorney General's office flashed once again, and it was Cuomo's turn to be sacrificed by the butchers of Albany. At least, that's how it goes, according to the accused.
In a speech on March 6th, at God's Battalion of Prayer Church in Crown Heights, Brooklyn, Cuomo offered his opinion of the investigation into the 11 accusations of sexual harassment, "The political sharks in Albany smelled blood. And when the sharks smell blood, they come and they exploit the situation for their political purpose."
In the same speech, Cuomo lamented the Democratic party's expanding embrace of cancel culture, which he blamed on a "new sensitivity" among younger people that is being capitalized on by political predators to overturn elections by public opinion rather than rule of law. Cuomo expanded on this and claimed the investigation was a deliberate hit by "Them" to remove him from office and steal his title. He never cared to identify who the "Them/They/Their" was, but made clear he was certain of their intentions and certain that their intentions were selfish.
Cuomo's entire speech was hermetically sealed in divine-certainty: Certainty that the NY District Attorneys' decisions to drop criminal charges were equivalent to exoneration; the certainty that the women who came forward as well as the ensuing investigation were acts of political motivation rather than an honest fight for justice and; the certainty that "God isn't finished with me yet."
Cuomo made no note of the Oswego County District Attorney's comments that claimed the accuser's testimony to be credible, stating that "the charges were dropped as a matter of difficulty in establishing legal sufficiency." The same District Attorney went on record, saying, "In no way should this decision be interpreted as casting doubt upon the character or credibility of Ms. Limmiatis, or how harmful the acts she experienced were."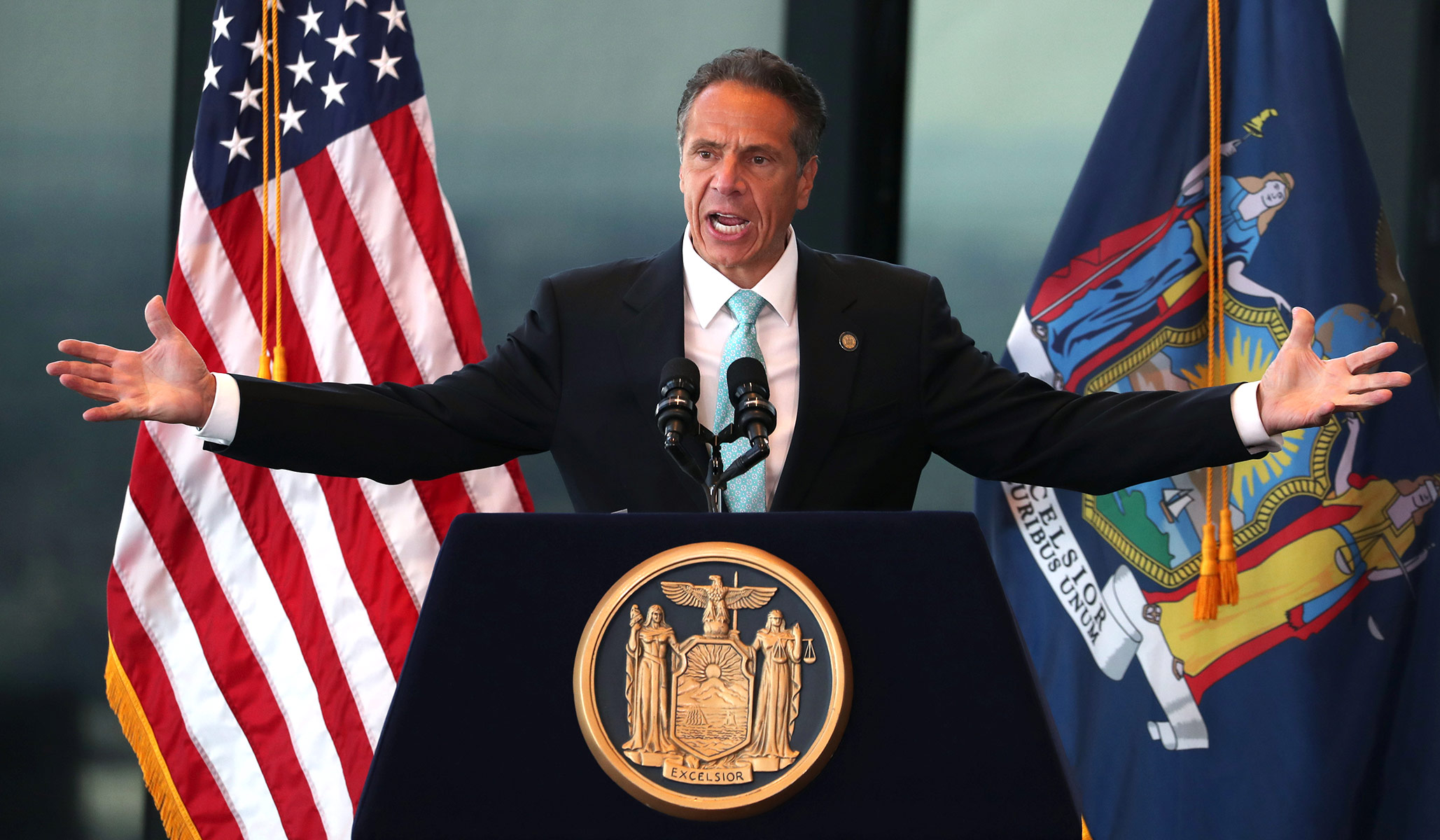 What Happens Next?
So, now that the courts have washed their hands of Cuomo, the coming democratic primary could likely be a tale of two cities. In this case, a tale of two Albany's–to paraphrase Gov. Mario Cuomo's 1984 speech at the Democratic National Congress. In one Albany, anybody willing to make an excuse to defend Cuomo will feel comfortable doing so by the absence of legal grounds and growing discontent towards cancel culture. In the other city, anyone who believes the testimonies of the 11 women and the supporting Attorney General's report–or anyone looking for an ax to grind against the former governor–will have the right to be enraged at the thought of Cuomo's fourth term.
It's a confrontation of motive and ideology: A battle between those who see Albany as a setting for political Darwinism–like Cuomo– and argue that this outlook has been used adroitly by him to benefit the state. On the contrary, the opposition believes something can and is being done to discontinue the systems of corruption and abusive leadership.
Cuomo has no swarm of friends in Albany. He never has, and never cared to. But that isn't to say he's without democratic support. According to certain polls, Cuomo currently trails Kathy Hochul by around four points, though surveys show that 59% of New Yorkers trust Letitia Jame's investigation into the accusations against Cuomo.
As the truth unfolds, it'll be a matter of discovery. Discovery to see if the tide is shifting away from Albany's legendary corruption; to see if the once invasive species of dishonest gatekeepers and abusive leaders are becoming endangered. Or, if this has merely been another episode of Albany being Albany. And if that's the case, nobody has a more experienced hand in dealing with the murky complexities of New York's capital better than Andrew Cuomo.
Thumbnail Credits: Spencer Platt/Getty Images
Research Credits: Afia Sengupta
Sources: