Trump Indicted, Now Federally: What's Next, Potential Prison Time, etc., etc., etc.
The indictments came crashing in on Thursday. Thirty-seven waves. Now the question hangs out there: Will they roll back into the sea of tumult? Or, finally, be enough to breach the legal levy that has for so long worked in Trump's favor? 
The thirty-seven indict pin Trump with the following charges:
30 counts of withholding national defense information, including information on nuclear programs, military strategy, and potential vulnerabilities.
5 counts related to concealing possession of classified documents
2 counts related to false statements, by Trump, to the FBI
Clearly, Trump has done no wrong… well, according to Trump. The former President made many statements in self-defense, some crying about unfair treatment compared to Joe Biden's classified document scandal.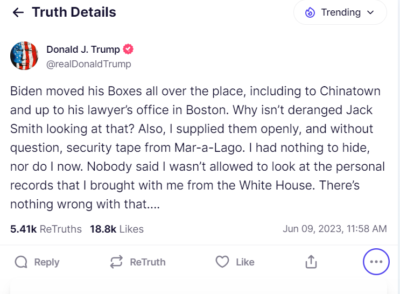 Other Posts blamed the corruption of the Biden administration. Trump stated that of all the witch hunts he's suffered so far, this, by far, is the huntiest witch hunt of all.
What's In the Indictment?
The 49-page indictment outlines Trump's conspiracy to conceal, and horde classified documents with incriminating information. These conversations, exhibits, and statements show Trump didn't merely bring his work home with him. They tell a story of cover-up, where, in the process, Trump lied to federal law agencies. 
The evidence ranges from direct quotes by Trump to statements from staff who say they had to constantly shuffle around Trump's boxes, sometimes even to Mar-a-Lago restrooms. 
How Long Could Trump Serve
The evidence contained in the indictment appears to be quite damning. And if found guilty on all counts, Trump could be sentenced to 400 years in federal lockup. 
Right now, Trump charges are contained to Miami-Dade County. There's already controversy over the location. The judge set to preside over his case, Aileen Cannon, has made previous rulings in Trump's favor. Not only has Cannon made favorable rulings, but Trump himself also appointed her to the federal bench three years ago. However, it's not certain that Cannon will remain assigned to Trump's case. 
Trump may also have to face a federal court in Washington, D.C.
What Happens Next?
Trump is set to appear in court on Tuesday, where he will be arraigned. Then, federal agents will collect a DNA sample and hold an initial hearing. From there, it could be over a year before the trial commences, similar to Trump's criminal case in NYC, which is set for March 2024.
It's also likely to assume that Trump's legal team drag the litigation process out as long as possible. Trump, no doubt, will continue campaigning. There's no constitutional measure to force anyone to suspend a campaign after an indictment. So, even if Trump is sent to prison, he could still become president.