Are the Trump campaign lawsuits likely to go anywhere?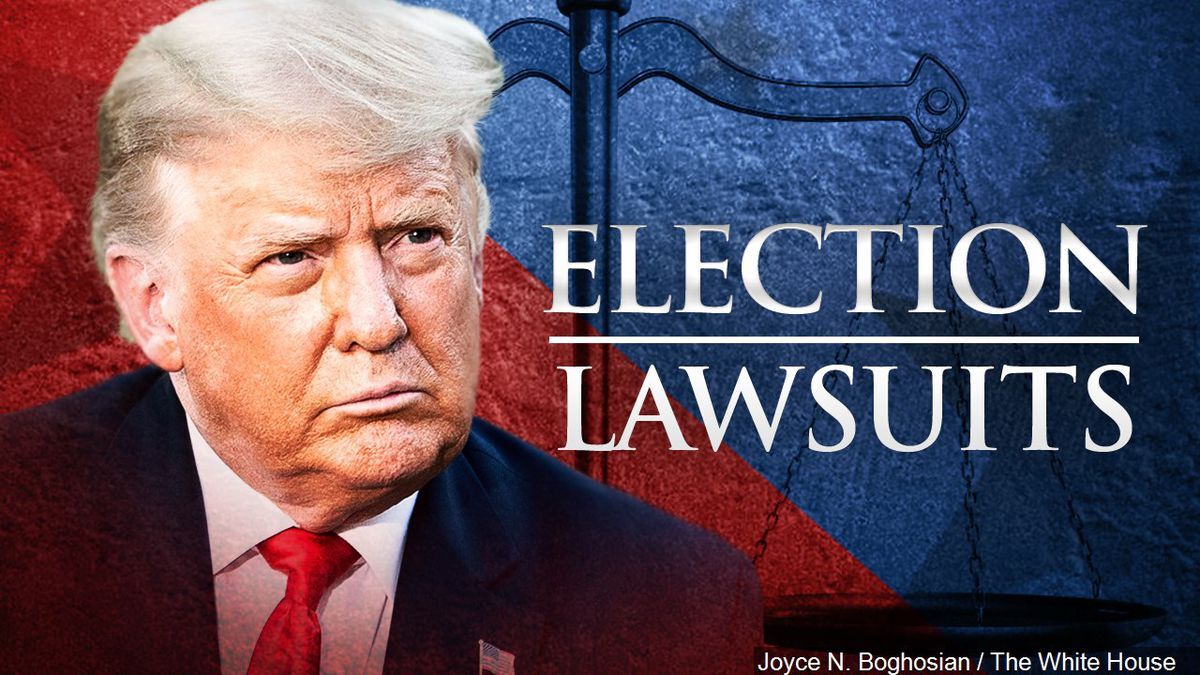 Washington D.C. – The Associated Press called Joe Biden the winner of the presidential elections last weekend. Less than half an hour later, Trump's attorney, Rudy Giuliani, alleged that the electoral system in Philadelphia is fraudulent. Giuliani's statement lacks evidence. This indicates that Trump will not concede this election and he will continue to fight the outcome in courts. Are the lawsuits that the Trump campaign has filed since Election Day likely to go anywhere?
In the past week, the Trump campaign flooded state and federal courts with over a dozen new lawsuits. The attempt is to halt the vote-counting process or to disqualify portions of ballots. So far, the majority of lawsuits are in Pennsylvania, Nevada, Georgia, and Michigan. It's noteworthy that these are all states where Biden's victory margin is slim or the winner has not yet been called.
Legal experts conclude that Trump's chances of challenging this election are slender to nil. Thus far, most of his lawsuits are dismissed due to a lack of merit. A few of the suits, including the ones in Arizona that gained friction, are not likely to change the outcome.
Judges in Pennsylvania, Nevada, Georgia, and Michigan have already ruled against Trump. Meanwhile, state officials continue to count ballots in North Carolina and Arizona.
Trump's legal battles were underway before Election Day; however, Trump upped his stakes last week. Pennsylvania Attorney General Josh Shapiro, says "there has been a lot of noise about litigation, but it has had zero material impact on the electoral process."
What the Trump campaign prays for
In Philadelphia, a federal judge dismissed Trump's request to compel election officials to stop counting ballots last week. Meanwhile, in Nevada, a federal judge rejected Trump's request to impose an injunction on the automated signature-verification machines in Clark County. The court claims that there is no evidence of Clark County doing anything unlawful.
In Michigan, Trump's petition to halt the counting of absentee ballots was also denied by a federal judge. Campaign officials are not given access to observe the process in that state. Simultaneously, in Georgia, a federal judge ruled against Trump when he asked the court to disqualify 53 ballot votes.
In Arizona Fox News and the Associated Press declared Biden as the winner, but the rest of the media networks held off. Trump filed a lawsuit in the state court, alleging voter ballots contained "bleeds, splotches and stray marks." These allegations are similar to the Trump campaign's social media claims that ballots should not count if voters use a Sharpie marker. Without evidence, Trump is resorting to baseless claims while losing ground in the courts.
This week, David Bossie, who is leading the Trump campaign's legal battles, tested positive for COVID-19. Housing and Urban Development Director, Ben Carson, also tested positive for the virus. With key members of his team down, will the Election Day lawsuits make any difference in the outcome?
Thumbnail Credit: Joyce N Boghosian/The White House (images may be subject to copyright)
Afia is a lawyer, journalist, an avid traveler, an avid reader, a foodie, and an amateur singer. She enjoys instrumental music with her glass of wine ?